This December & Januari in STUDS
There is a lot coming from the Boardroom this time: registration for the ALV is now open, Zorg & Zekerheid collectivity deal, will you join the Inclusion Team?


#MOVEMBER: ARC tops the list of donations from rugby clubs (video)

#NOREFNOGAME: Pablo put Kris through his paces

Christmas Wine Fest 2021: too good to pass up for this is a bargain and you support the club!

Our boys in Georgia: physios tape the whole thing together (photo report)

Did the 1st play their last game last Sunday? (photo report)

Sponsoring in Corona time


TBM: will you fold a ball for the TBMs or?

Sinterklaas was a rugby man!

CJC's are warm again thanks to new team jackets

Take your time and get to know our coach Keith Muirhair better Translated with

Did you know that as a paying member of a club, you are directly 'high up' in the (decision) tree? Yes you are!

Important decisions are not made alone, but also presented to the members who can then vote on them in a General Assembly.

On 13 December at 20:00 hours, you can have your say as well as your voice heard.

Due to the Corona restrictions, this ALV will take place entirely online.
You can register by clicking on Nu Registreren. During the webinar, you can chat with other attendees, ask your question live and vote on issues.

You too will have a say in what happens at the club, won't you?

Good to know: if you want to send in a piece to put on the agenda or to have it dealt with by the board, send it in at least 1 week before the general meeting (this year the deadline is 6 December).

You can send your piece to our secretary (link)

Last year, ARC and Zorg en Zekerheid signed a sponsor agreement.

The club and health insurer have thus entered into a collaboration that should lead to the healthiest region in the Netherlands.

Zorg en Zekerheid offers various insurance policies that provide direct benefits to ARC members. For instance, insured persons aged 18 and older who have the supplementary insurance 'Convenience' will receive €25 back on their contribution costs to ARC. In addition, insured persons under 18 years of age, who are insured via the supplementary insurance 'GeZZin', will be reimbursed €50 of their contribution costs.

Plus every new customer has a chance to win back his/her contribution worth €350.

Not only the insured but also ARC has advantages when you -via the club- take out a Zorg en Zekerheid health insurance! In addition to a nice start-up payment of €1000, the club will receive €50 for bringing in a new customer and €10 for an existing customer. Sounds good, doesn't it? Click on the banner to immediately calculate and conclude your premium via the ARC collective insurance.
Are you in?

For the Inclusion Pilot of Alliantie Gelijkspelen, you know that initiative of the John Blankenstein Foundation, NOC/NSF, KNVB, KNHB and supported by Ministries OCW & VWS, we are looking for 2 more people who want to form the Inclusion Team for ARC.

Together with your team you will roll out the activities of the pilot within the club. This could be setting up a focus group, questioning some people, (if we are allowed again) planning the workshops for teams, coaching staff and board. The workshops themselves have already been created.

You are not alone, as you are in contact with your fellow board members from field hockey, soccer, softball & baseball and archery with whom you also form the larger team. And you can conveniently collaborate and communicate online through our intranet. You can sign up with Naomi or Robert below.
UNBELIEVABLE! Record donations for ARC Movember!

"Last year we did a great job raising €1295 and came 2nd/3rd out of all the participating rugby teams in the Netherlands. Let's go for #1 this year." Said Bart in the previous STUDS. AND WOW!
With super-MO booster EJ who quickly took the lead and was able to bring many people into his enthusiasm, we were already above last year's achieved result after 3 days. In week 3 we were at around €3500 and Robert made with the help of Bart, Ben, Phillip & EJ a video campaign for LinkedIn in which the guys express what their personal motivation is to participate in Movember.

Openness and vulnerability works. Not only for yourself, but the videos also touched people. With over 1.7k impressions we collected a whopping € 1700 in donations. This puts us by far at the top of all Dutch Rugby Clubs and allows us to celebrate the largest amount of donations we have ever raised. A THANK YOU to all donors. Enjoy this incredible result. Have a look at the guys in the video below.

#NOREFNOGAME
Kris Geluk (you would be happy with the name alone -Geluk = happy)) is besides ARC 3 player, a father and a friend also a referee.

Pablo asked him a few questions about why he started refereeing in the first place.
Hey Kris, why did you become a referee in the first place?

- A few years ago I took a competition official level 1 course. Before that I was refereeing occasional social matches and youth league matches, but without having done an official course. I then did the course to become a better referee for the Bingham Cup.

How do you feel when you are refereeing a match?

Like most players I feel the excitement of the match in the dressing room. When you walk to the field you feel the focus of the players and sometimes the crowd. During the game I am focused on what is happening on the field.

What do you think your work adds to the game?

Having a referee on the field contributes to a safe and uninterrupted game with a fair match. Especially during youth games, I try to coach players on proper quick tap and go's, keeping to the sidelines and safe scrummaging.

Do you feel appreciated and recognized by players and other members of ARC?

As a referee, I do sometimes make mistakes in what I see, how I assess a situation and what my decision is. I am glad that at Amstelveen -as at any club- the referee is approached in a very polite and respectful way. Respect for the referee and the opponent is what our beautiful sport is known for. Sometimes after the game I have a discussion with the players about decisions taken. But, with a beer in hand, all (geopolitical) issues are quickly resolved. I am proud to be one of the referees of the Amstelveen Rugby Club.

And we are happy with you and proud of you, Kris.

The ARC Christmas wine action is back

Yep, the moment we've all been waiting for has arrived! Together with De Wijnschuur ('The Wine Barn') we can offer you an incredible deal again thanks to the team there. From the wines that you order, De Wijnschuur will donate the margins to ARC. So don't hesitate to stock up. For yourself or to give away.

This year we have carefully selected the full-bodied subtle

Jenius Rioja Tinto

. Most of the wines from the Nius winery are from Spain, with a Chilean touch. The Nius wines are made in collaboration with local winemakers. This is a soft Rioja full of character, with black cherries, spices and a hint of toasted wood. It grabs your attention with the balance of fruit and subtle wood notes and has a surprisingly fresh character! Delicious with roast chicken, meat or pasta with a rich sauce.

The white wine is a

Les Vignes Chardonnay Reserve

. This 100% Chardonnay ferments on stainless steel and matures in wooden barrels. This Les Vignes is full of tropical fruit and the wooden barrel gives it a buttery and vanilla touch. Delicious with richer fish such as smoked salmon, pumpkin ravioli or a piece of pork. Our experts Lilly Buurke and Jeff Meijer had the difficult task of putting this package together and thanks to De Wijnschuur we can offer you these wines for €55,00 per box of 6. A mixed box of 3 white and 3 red wines is also possible.
As icing on the cake, you get a free dessert wine with the purchase of 3 boxes.

This is the

Collines Du Bourdic Vignes Rousses

. The Les Collines Du Bourdic winery is located about 25 kilometers northwest of Nîmes. It has a nose of exotic fruit: lychee, mango and a fresh and persistent finish. Perfect with fruit desserts, Foie Gras and blue cheeses.

Do you want this delicious wine? Then add it to your order of 3 boxes first. During checkout, click on coupons and select 'TRINITY' and add it. And the price for the wine will then be automatically deducted.

The wines can be ordered in our own webshop and, like last year, will be delivered for free to your home by enthusiastic ARC delivery people on Saturday, December 18 in the morning. (More info will follow in the week before the delivery)

"Jarno in the Far"

Our very own physio Dave Sherman is building up nicely with his FysioHolland Sports Services. In the previous STUDS we already gave it some attention, but now there are pictures. Jarno has been seconded for a period of 2 months to provide physiotherapeutic care and training to the physio's of the Georgian Rugby Union in the high performance training center 'Shevardeni' in the capital Tblisi. Recently boss Dave was there to present the first batch with their certificates. Nice work men, congratulations on this nice job and ditto results!

- Robert

Of course, we don't assume it was the last game of this season. But you never know.

Anyway, let's take another look at the beautiful photos from the game against Umemoemenoe shot by Kevin Scott (kevinscott.org) last Sunday.

Lights! Models! Grasslist! it was fabulous!

We won 18-16 over Oemoemenoe in a buttocksqueezing final 2 minutes of the game.

Missed the match? You can still see it thanks to Oemoemenoe's recorded live stream. Watch HIER

Sponsorship in time of Corona

Our club runs on the support of our members, active volunteers and the important contribution of sponsors. Thanks to the generosity of our members, we have received €7,825.62 in sponsorship fees to date. This is great and we are on track for our target for 2021/2022.

We would like to welcome our new board sponsors Lindenhoff and Runder.nl. Many thanks for your support. For the tastiest Biltong, go to Runder.nl. We would also like to thank Rabobank for their sponsorship towards the purchase of new rugby poles. And of course the support of Zorg & Zekerheid. Be sure to check out their ARC Collective Health Insurance earlier in this STUDS. Thanks a lot!
Without your support there is no ARC

Our club runs on volunteers, that is well known. We would like to thank them for their love and the hours they put in the club. Yet we are often short of hands and our board or committee members often work 'overtime'. Would you please help us, we do it for each other. (Or to earn your €50 back, also good) Please sign up at Sjoerd secretaris@arcrugby.nl
Would you also like to show your #BlueHart with a sponsorship?
We would love you to. And it's super easy: click on one of the images below and you will be taken directly to the secure payment page. After payment, you will immediately and automatically receive your invoice. We'll make sure you receive your welcome gift quickly: the ARCAID storm umbrella that keeps your hair dry even in winds of 100km/h. And we can go on doing more great things. Thank you very much!
Would you like to sponsor a billboard? That is also possible, please contact Melvin at sponsoring@arcrugby.nl.

-Melvin
Be a doll, buy a ball

Dear ARC parents/ grandparents/supporters,

In order to keep playing again after the lockdown, our youth is in need of a couple of new balls.

Would you like to fold a ball or would you rather sponsor one? We'd be very happy if you would click on the ball on the right for the Tikkie. You can indicate what you would like to sponsor. Every little bit helps and is more than welcome!

On behalf of all the youth, we would like to thank you for your contribution and hope they will be able to show their ball skills again soon.

From the Editor Robert: - I would have loved to translate the following, but it would take away the whole meaning of the cultural reference and word-play. Besides, it's a very endearing piece about how Sinterklaas (not Santa!) was a rugger as well. Enjoy practising your Dutch ;-)

Do you want to learn multiple sports, have fun and make friends in English and Dutch?

Cricket, Rugby and Frisbee are a few of the sports we will play. Sign up for the Multisport Camp of the Amsterdam Cricket Academy.

Click on the banner for all information and registration. You can sign up per day or for the full three days, from 10 am to 4 pm. Age 5-10 years old. No experience is needed. Lunch and drinks are included, please bring your own water bottle.

The organization of these camps is in the hands of the Cricket Academy, ARC is not responsible for this.
These Juniors are not 'coming in from the cold'

November 13th was a great day: Juniors 1 won against HRC! No words are needed for this. But this day became even more fun because a kind-hearted parent of team Juniors has put all boys in a new softshell jacket.

Corné from LumenVox thank you very much for your generous contribution. Our thanks are huge! And of course Arslan of PrintBijMij.nl for printing our new team jackets. The boys will be warm, dry and promoting ARC in the winter.

This month another great opportunity to get to know one of our coaches better.

Up close & personal

with Keith Muirhead
Biography
I played competitive rugby from the age of 11 to 46, mostly at open-side flanker but with a 5-year exploration of inside centre when I moved to Italy and played for the Rome Exiles in the 1980's.
My only representation was for Scottish Midlands Schools. After that my playing career was more about extreme enthusiasm than God-given talent. I never missed training and would play for anybody, anywhere, anytime.
When I moved to the Netherlands aged nearly 40 I had pretty much decided to retire but the intensity here is a different level so I polished my boots and carried on for a few more years. I played for ESTEC and Te Werve.
My first coaching role in NL was with my son's Cubs team at BSN. I then moved up with him to the Juniors and Colts. While coaching the BSN Colts I stumbled into my first adult team, Diok Dames. I really didn't have a clue in coaching terms but they were a pleasure to work with and I learned a lot.
After 2 seasons with the Diok Dames I moved on to Leiden Students (LSRG) and got a full immersion into the student culture. Again this lasted for 2 seasons and when I felt we had gone as far as we could together I took up the Head Coach role at RC Delft. This turned out to be a major challenge. Together we went from the middle of Division 2 to the Ereklasse play-offs (against Bassets). (Luckily) we lost and I moved to a new challenge with Ascrum. While coaching RC Delft I also coached the Dutch National Student Team for 2 seasons.
Ascrum was where I really started to find my feet as a coach. They had been bouncing between Division 1 and the Ereklasse so the challenge was to consolidate in the Ereklasse and become competitive there. We did achieve that, climbing from 9th to 8th to 7th then 6th in successive seasons. Nothing spectacular, no expensive foreigners, just building a game and a competitive culture. Highlights included winning the Ereklasse Plate and beating Diok (sweet).
Coaching Ascrum had almost become a full-time job and after 4 seasons I was ready for a complete break. That lasted for a year before Michael Assman called me to ask if I would be interested in joining the Amstelveen coaching team. I am very glad I said 'yes' so now I am supporting Chris and Sam with the Performance Squad.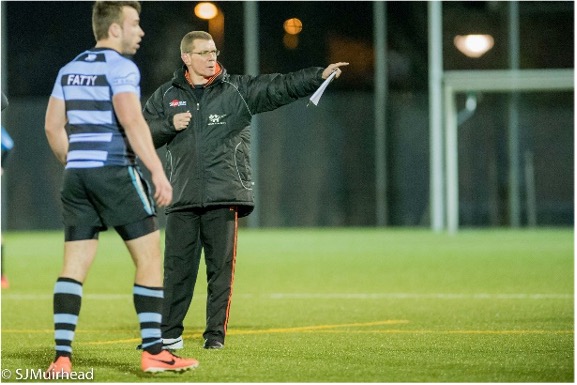 Coaching Credentials
Honestly, I am not sure. I followed an extensive programme with the NRB some years ago which I believe was Level 3. I have also participated in numerous coaching workshops in NL and UK. My most useful development experience was when I spent a week in Edinburgh with the Edinburgh Rugby professional team. What the pros do is not so different, just much faster and with fewer mistakes.
What do I want to bring to the players?
I want the players to want to come to training. They come because they know they will learn something and improve their rugby abilities. As coaches we have a duty to raise our own game; to make training relevant, interesting (yes, and even fun!). There are a thousand ways to train passing, for example, so let's use our imagination or do research or both to maintain some variety.
What will make this season a success for me?
There is no point saying 'we want to be top 4' or whatever. That is not in our hands unless we go out and buy a busload of Kiwis. We can only control the controllable. We can improve the individual skills, the team performance and the rugby nous. If all of those develop then the results will come. If I see that the guys who came regularly to training have become better rugby players then I'll be happy.
Which coach inspires me?
Scotland Coach Gregor Townsend. There was a time when you could divide every Scotland final score by 3. Townsend changed all that and suddenly it was exciting to watch Scotland play. Of course, it helps when you have brilliant mavericks like Stuart Hogg and Finn Russell.
Favourite quote?
It was a reference to England lock, Maro Itoji. "He spends so much time offside that he could captain both teams"
Favourite rugby player of all time?
Ex All Black flanker and captain, Richie McCaw. Without doubt the best flanker (and captain?) of all time. In his 100+ caps McCaw never once entered a ruck legally. He was massively effective and rarely penalized, never mind sent off. His strongest quality was referee management. No screwed-up face and tantrums (cf Farrell or Sexton), just a calm voice saying "are you sure, Sir?". Genius.
Thanks for your enthusiasm, knowledge and skills, Keith.
The next STUDS drops in your inbox Februari 1st